Tunics:
Lurex Stripe Tunic
$39.00 at Arden B.
I'd like some long tops to wear with skinny jeans and leggings. I don't like to wear shorter tops with skinnies. I find it hard to locate tops that are long enough though.
Hair cut:
I need a haircut, like bad. I really should get my highlights redone as well, but don't want to waste the money or my time just sitting there. Love Carrie's layers!
Manicure:
I need a manicure! I will be opting for a color change and not a full manicure though!
Weekend bag: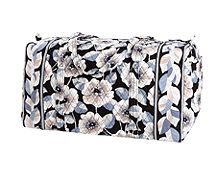 Large Duffel
$64.99–$85.00 from Vera Bradley
I need a weekend bag that is not a big piece of luggage and not a small tote bag. Vera Bradley has some fun designs. What I like most is the soft fabric they make their stuff out of. Bad thing? It's not cheap.
Primer:
Cardigans:
Enamel-button cardigan
On sale for
$19.99 at Gap
I wear cardigans all the time. I would love to have one in every color. Gap has some great basic pieces.
Aromatherapy:
Aromatherapy Bath Soak from Bath and Body Works: $16.00
They also have a stress relief version and a energy verion.
Sperry wedges:
Sperry $79.99
I'd wear these everyday!