Pajamas, don't you just love them? Now, I'm not one to spend much money on them but I appreciate a nice set of pj's ever now and then.

Robot Plush Pants $14.99
Cool Nights Spotted Leopard Sleepshirt $49.00
It's kind of different, but I like it.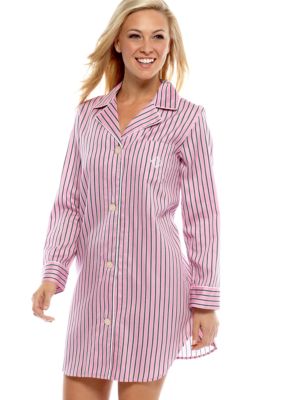 Lauren by Ralph Lauren Long Classic Sleeve Shirt $60.00 (Belk)
Lauren by Ralph Lauren also has a statin sleepshirt for almost half the price of this one.

Neon Striped Raglan-Sleeve Nightie $20.93
I'm pretty sure you'd be able to see yourself in the dark with this nightie. :)
Slinky Lace and Knit PJs $85.00


J.Crew Silk Pajama Pant $98.00
Well, 98 bucks for pj's sounds reasonable...not really but I love the color.

Victoria's Secret Pink Supersoft Robe $29.50


Victoria's Secret Three-piece Cardigan Pajamas $49.50
3 pieces to a sleep set? Geez. I guess this would be nice if you were having a sleep over or spent the night at someone else's house.

Victoria's Secret One Size Sexy Shorts $20.00
Love all the colors you can choose from.

Forever 21 Barbie Pajama Set $18.80


Maybe Hugh Hefner had the right idea with wearing pj's all day, everyday.
Night Night!