So, one day I saw a lady wearing the cutest bracelet ever. After much searching, I found it was a David Yurman bracelet.
This bit of gorgeousness is $3,350.00. Yeahhh, so I did not rush out to buy it. Fortunately, I have found a good many for a fraction of the cost and are just as cute.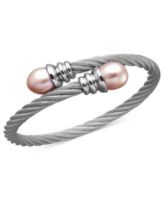 $260.00 at Macy's
$109.65 at Zales







$95 JCPenney
One of these NEEDS to come home with me.